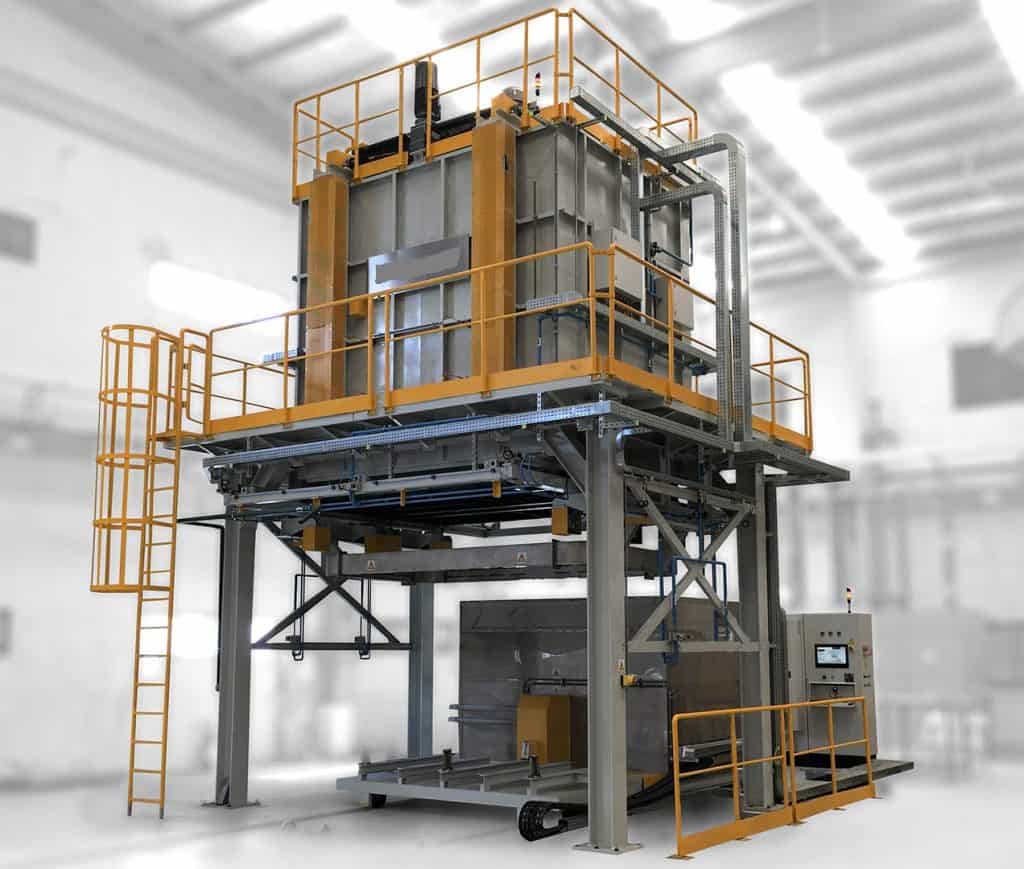 What is drop bottom quench furnace?
The Drop Bottom Furnace is an inverted furnace with a charge lifting and lowering facility. This facility allows the furnace to accept high-speed quenching, which includes de-clamping, door opening, and quenching.
The Drop Bottom Furnace can either be of the freestanding kind, in which the charge carrier loader and quenching tank move across the floor, or it can be of the floor-mounted type, in which the charge carrier loader and quench tanks slide within a pit.
Because very rapid quenching is a prerequisite, the process has been completely automated with the help of PLC and SCADA. These furnaces can also be utilized for a continuous ageing cycle lasting anywhere from 16 to 24 hours.
Where are these furnaces utilized?
Applying solution heat treatment to aluminium alloys typically takes place in drop-bottom quench furnaces. For the greatest flexibility to accommodate ageing and annealing, they are designed to function with tight uniformities from 150°C to 650°C. The drop-bottom furnace is supported by a base and is designed to allow for the placement of a quench tank directly below the furnace.
Because of the wide temperature range that may be worked in, drop-bottom furnace facilities can perform comprehensive T6 heat treatments in a single furnace. These treatments include solution annealing, quenching, and artificial ageing.
When extremely rapid water quench times are required, drop bottom furnaces are often the type of furnace that is utilized. The furnaces are built to conform to all of the parameters laid out by Aerospace Material Specifications (AMS), specifically AMS 2750E and AMS 2770N, as well as those laid out by NADCAP, RPS-953, and Boeing Aircraft (BAC). Additionally, these furnaces are utilized in the solutionizing process, ageing structural components, and forging aluminium alloys in various sectors.
Features of drop bottom quench furnaces?
The heavy-duty mechanism is responsible for lifting loads and quenching fires.
The quenching process and the solution heat treatment are combined into a single, regulated operation in this furnace.

Clamping Door Seal: When the doors are closed, they are tightly clamped against the bottom of the furnace to prevent the loss of cold air, disrupting the load's temperature uniformity and increasing operating expenses.
High-Velocity Air: High-pressure blowers offer quicker heating rates and tighter temperature uniformity for various load combinations and densities.

Recirculating ventilation systems are designed to provide huge volumes and high airflow velocities across the work zone. This is done to guarantee that the load receives a uniform and efficient heat transfer.

It features a specialized air distribution design that can be tailored to meet the requirements of the airflow pattern following the arrangement of the product or load.

The quench tank may be fitted with either a regulated heating system to preheat the medium used for quenching or a heat exchanger to facilitate the cooling of the medium.

Water or polymer quench tanks have a single wall made of stainless steel, and they include an integrated circulation system of the quenching medium. Both of these features allow for efficient energy removal from the charge.
Features and specifications
Capacity up to 20 MT.

Well adapted for aluminium solution treatment for aerospace applications.

Maximum temperature up to 650˚C.

Electrically heated.

Temperature uniformity within +/- 2 to 3˚C.

Electromechanical / Electrohydraulic winch for quenching within.

Fifteen seconds or unique hydraulic scissor platform design to facilitate fast quenching within 7 seconds.

Programmable controller to achieve close temperature uniformity.
Drop bottom quench furnace served industries
Automotive

Recreational Vehicles

Forging

Agriculture

Mining

Aerospace

Forging

Foundry

Heat Treating

Aluminium Casting

Military
Advantages
High-quality parts.

High airflow gives you good heating rates and uniformity.

Heavy-duty construction.

No Maintenance for the door gasket & interior.

Aerospace and MIL standards are met.

Fully set up and tested at the factory BEFORE shipping to cut down on installation and start-up costs.

Custom sizes available.
Conclusion
Our Drop bottom quench furnaces are made using the latest technology. Its not only provide enduring performance but can prevent heat loss, helping you save a great deal of energy.
If you decide to implement it in your workplace, then 'Precision Control' are always the best choice. We provide the best service for Drop bottom quench furnaces in Dubai and Riyadh.
For more information about 'Precons',
Do call 9840930370 or Fill out our Appointment form to get in touch!
♥ Follow our Social Media pages for recent updates. Facebook  | Instagram